Private Investigator - Worldwide Coverage
Private investigator for Latin America collecting key evidence for a court outcome in your favor.
We can help you discover the specifics required for you to make an informed decision.
Click here for a FREE Consultation
Make Informed Decisions
Are you taking on a new merger or acquiring a large acquisition?
Find out the full details of the deal in advance.
Click here for a FREE Consultation
The Complete Profile
Capture the complete profile – personal, financial and criminal history of an individual or the sequence of events that took place.
Click here for a FREE Consultation
Arthur Mitinian T. grew up in Tbilisi, Georgia (USSR), in a military family, so he naturally followed his father's footsteps to join the USSR Special Operations Forces. He graduated from the prestigious Baku Higher Combined Arms Command School with honors in 1985. His specialty was analyze security and special operations.
He was an active-duty officer from 1985 – 1993 of the Defense forces of USSR, and he completed his service in the rank of Captain with multiple decorations, including Order of the Red Star and Medal "For Courage".
For the last 30+ years, he traveled extensively throughout the Americas, where he has been a consultant and instructor for many private and government organizations, such as state and private banks, police departments and corporations.
He is based in Costa Rica since 1994, where he is very well connected and is an expert in navigating the business, cultural and legal environment. He also has worked in several countries in Central America, as well as in the USA.
His extensive training in the military and beyond makes him an expert in several areas such as:
Executive protection

Investigations of any kind

Security planning for any situations

Counterintelligence and Strategic Security Analysis

Combat shooting – he is an expert marksman with multiple awards for best shooting

Knife combat and protection

Hand to hand combat, special forces style

Extensive survival skills in the desert and tropical terrain

Arthur is proficient in the following languages: English, Spanish, Russian, Georgian and Armenian.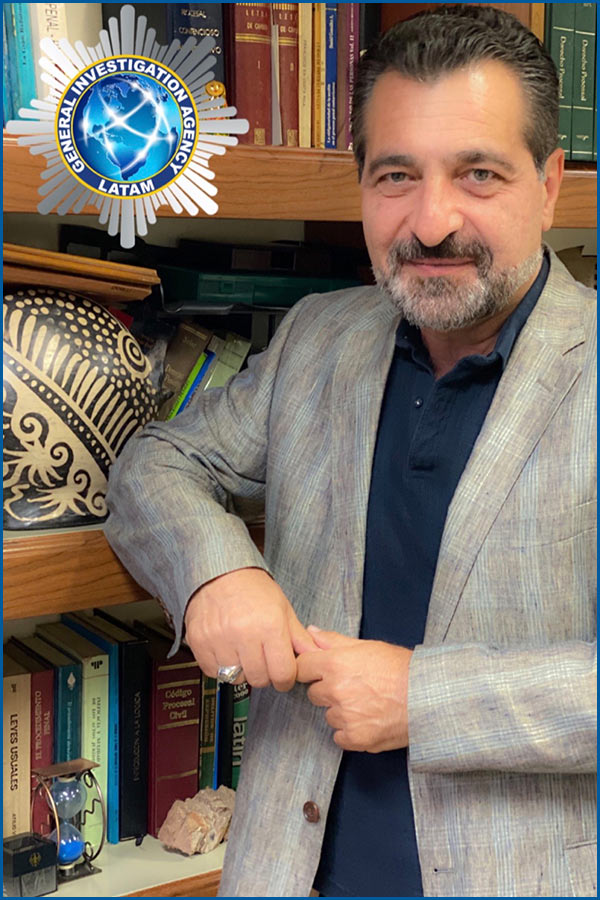 What Our Clients Say About Us
Thank you Arthur for all your help. It was a pleasure to do the business with you. We got everything we needed. I highly recommend this team for all your investigative needs in Costa Rica. A+++++
Arthur's services are exceptional. He is very professional, understanding, and very resourceful. He goes above and beyond to deliver results for his clients.
I needed a consultation on personal safety and logistics planning, involving traveling through several countries, while protecting my privacy. Arthur equipped me with detailed instructions on how to maintain all precautions that only an expert would know. I am very happy to recommend his services to anyone.
I had a business in Costa Rica. Long story short, my local partner disappeared with money, and sold the shares of the company on phony (forged) documents to other people. A friend recommended General Investigations Agency. They stepped in and after a thorough and professional investigation by their team, helped me resolve the problem to my complete satisfaction. General Investigations Agency (GIA Latin America) tracked & found my former partner and helped to return my shares via legal system. I would recommend them to anyone who wants a top reliable team of professionals who really know their business.
Arthur is a great private eye with military background. He ran a very thorough background check on potential business peers for me and identified several scammers. That helped a lot. Thanks!
Due to some unfortunate events, needed a private eye. Spoke with pretty much all 3 agencies in San Jose. GIA has struck a chord for one simple thing. While others positioned themselves as former U.S. military or PI's, this did not fit well Latin America. Information gathering methods in the U.S. are so much different from Costa Rica. 'Bad' people here aren't wired the way Americans are. Take my word, Artur knows what he is doing and he also knows his limits. He told me upfront what would be reasonable to expect and what would fall under "mission impossible" category. Very much contrary to other folks that promised things that sounded "fantastic". Artur is your man for digging out information that you would never expect to be "diggable". Hats off and many thanks for your help!
Reached out to GIA to investigate business opportunity in Costa Rica that sounded a little too good to be true. Thanks to Artur, found out that it was. Everything was looking squeaky clean on paper and local attorney was corroborating on zero risk. So glad I stumbled by Artur. It took him a week to get to the bottom of it, but once he showed me one particular SMS, situation got crystal clear. No idea how exactly, but he made a miracle!
Personalized, professional, discreet investigative services. Highly recommended for national as well as international investigations.
Excellent service. Very professional. If you need any help, don't hesitate to call.
I am very pleased to have participated in one more Artur course. Something well done with enough knowledge, very sure of itself when giving instructions, on firing positions and handling of the weapon, meets all expectations. Thank you.
An incredibly good and complete course, perfectly executed by a great professional in the field. From beginners to advanced they can take the different trainings and obtain the necessary knowledge to defend themselves responsibly. Thanks Arthur for sharing your knowledge with us